1.20.2017
Produce-providing nonprofit on track to expand nationally
Today's Houston Business Journal featured Lisa Helfman in it's prestigious Backpage column today. Since the content is password protected, we've provided the full text here: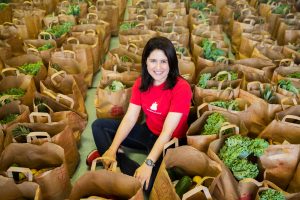 Lisa Helfman's 5-year-old son declined a piece of cake at a birthday party and asked if there was any fruit instead. Helfman's family had recently joined a weekly fresh food co-op, and her two sons' food habits had completely changed. Something just clicked for her.
"I sat down and thought that if I could have this luck in changing my children's eating habits in my house, could I do the same thing for children in the inner city and underserved communities where there are food deserts?" Helfman said.
She was soon creating and pitching her ideas of what would become Brighter Bites — a program that provides fresh produce to families through their children's schools. The program works with partners like the University of Texas School of Public Health, the Houston Food Bank and KIPP Schools to supply fresh foods and education to teach sustainable eating habits to low-income families.
"Parents always want to do the right thing, they just don't always have the tools to do it," Helfman said. "We empower them to give them a better life."
Now, more than four years later, Brighter Bites has delivered over 11 million pounds of produce, employs a staff of 42 people, has served over 20,000 families across Houston, Austin and Dallas, and, most importantly to Helfman, 74 percent of the families served say they maintain the healthy eating habits after the program is over.
As big of an undertaking as Brighter Bites is, running a nonprofit is not Helfman's only gig. She is also director of real estate at H-E-B. Her two positions complement each other in that Helfman, through her work with Brighter Bites, knows where there are food needs, which translates to where H-E-B needs to be.
Helfman, who was one of HBJ's Women Who Mean Business honorees in 2016, sat down with HBJ to talk expansion and growth of Brighter Bites and H-E-B.
How does Brighter Bites work exactly? We go into schools, and the Houston Food Bank delivers the food to the school. A team made up of my staff and parent volunteers bag produce for parents to take home when they pick up their kids. Every family gets 50 servings of fresh produce with eight to 12 different items per week for eight weeks in the fall, spring and summer. The students are then taught nutrition education in the classroom, and parents are given nutrition handbooks, tip sheets and recipes. Also, when the parents pick up their children and their produce, they participate in a fun food experience where they have a recipe sample that correlates to a difficult item in the bag, like a kale smoothie or a pear pomegranate salad. We're teaching them how to use the produce in the bag.
You've been up and running since fall of 2012. What has been the most rewarding part of Brighter Bites over the years? It's really amazing to me to have watched an idea grow from just my own boys to affecting thousands of families across Texas to change the way people view. I was this mom that had an idea, and I surrounded myself with all these experts who were passionate about the program like me. I was at Texas Children's in real estate at the time, and I have my partners at the Houston Food Bank and the University of Texas School of Public Health plus amazing relationships with H-E-B and Sysco now. I've been able to watch my dream come true.
Started in Houston, Brighter Bites has expanded to Austin and Dallas. What were the challenges of entering into the new markets? We launched Austin in summer 2015, and Dallas launched in the summer of 2014. I'm from Houston, so I know the community really well, and I was able to get partners and staff really quickly. In Dallas and Austin, we had to find a good team, which we did, but we were in a market we didn't know. We had to develop new relationships with the food banks and schools there. The thing about Brighter Bites is we aren't reinventing the wheel; we're just bringing people together to deliver this product.
Where are you looking to expand next? We are in talks with two cities outside Texas, and hope to launch those in fall 2017. We still have plenty of growth to do in Texas too. We currently have a waiting list of schools, so we also want to expand our service within the cities we are in right now. So, we have a plan to expand to the two cities we are in talks with, and then roll out an expansion plan for the cities we are currently in.
How did you find your way into H-E-B? I met Scott McClelland of H-E-B through the Houston Food Bank, and I pitched him Brighter Bites. I told him I wanted to create so much demand for fresh produce in underserved communities where H-E-B wants to build stores. I wanted to create sustainability and see the families participating in the program have access to purchase fresh produce on their own. H-E-B then came on as a partner and provided the bags for produce pickup.
One day, McClelland offered me a job. I didn't know anything about the grocery business, but I did know real estate and, because of Brighter Bites, I knew where the needs were.
H-E-B is constantly expanding. How's business? We're doing great. We're now the market share leader in Houston, and that's exciting. We want to continue building iconic projects to continue that growth, like our partnership with Midway on a mixed-use project at Washington Avenue and Heights Boulevard. We also have two-story stores in Bellaire and the Heights, which is a new concept for us. We are trying to be more progressive inside the Loop, where real estate is expensive. So, I think you'll be seeing more of these two-story concepts. We really try to tailor the stores to the community. We're also in major growth mode for our other concept, called Joe V's, which is a smaller concept that is priced 15 to 20 percent lower than other grocery stores. We're building our eighth location right now.
This interview has been edited for length and clarity.
---
By the Numbers
18,000— Number of families Brighter Bites currently serves
74%— Percentage of families that continued fresh food eating habits after the program
11.3 million— Pounds of food provided
---
Closer Look: Lisa Helfman
Founder and board chair of Brighter Bites; director of real estate at H-E-B
Education: J.D. from the University of Houston; Bachelor's from Tulane University
Age: 41
Family: Sons Drew, 11, and Nathan, 8
Hometown: Houston
Neck of the woods: West University
Favorite fresh snack: Apples with chi spice almond butter.
Advice for founding a nonprofit: "Believe in your idea and understand that anything is possible."