5.4.2018
The Produce Moms Kick Off Food Drive Benefiting Brighter Bites
Brighter Bites is so excited to be the beneficiary of a month-long food drive campaign hosted by The Produce Moms on #GiveHealthy's innovative produce drive platform.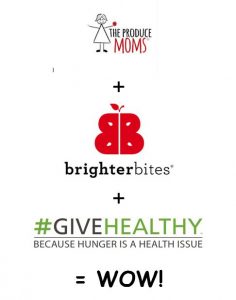 The Produce Moms is an organization that educates consumers about fresh produce, introduces them to produce brands, engages the produce industry with consumers in inspiring conversations, and promotes public policy to protect and increase the availability of fresh produce at American schools.
#GiveHealthy is an innovative food drive platform that utilizes crowd-feeding technology to enable the donation of fresh fruits and vegetables rather than canned goods to provide a healthier solution to hunger.
Brighter Bites is thrilled to be working with two organizations so closely aligned with our goals!
For the month of May, you can join our efforts to create communities of health through fresh food by donating to the food drive. Follow this link to visit the #GiveHealthy donation store where you can pick out and purchase healthy food items for Brighter Bites families. Thank you for your support!