Thank You For Your Donation! Tracy Kapiloff $50.00 Jill Bomar $50.00 Don Krekorian $150.00 Kimberly Franklin $75.00 brooke reichek $50.00 Heidi M. McPherson $50.00 Caren Easterling $150.00 Colleen Dunlap $50.00 Erika Freeman Prothow $50.00 Jan Lamonte $50.00 Christie Ross $50.00 Meredith Spence $50.00 Tricia Blalock $50.00 Lucy Brittian $350.00 Carmen Gomez $50.00 Lindsey Little $150.00 Meredith Spence $100.00 Rita Joubran $50.00 Kylie McElveen $150.00 Elena Anderson $50.00 Huntley Kubitza $150.00 Aynsley Letzerich $150.00 Diane Scardino $150.00 Ami Gordon $150.00 Jonathan Brinsden $350.00 Donna Theriot $150.00 Martha Barrera $100.00 Paresh Patel $50.00 Robin Brice $50.00 Jen Wallis $50.00 Whitney Walsh $500.00 Minna Taylor $150.00 shannon simpson $50.00 Viviana Denechaud $350.00 Tennessee Ott $150.00 Kelly Killian $50.00 Helaine Lane $50.00 Marc Isaacs $250.00 Elle and Clarke Anderson $500.00 Amy and Daniel Ferber $150.00 Faiyaz Bhojani $50.00 cherrise cederqvist $200.00 Karla Cisneros $50.00 Jeff Johnston $350.00 $50.00 Elyse Kalmans $350.00 Michelle Moses $50.00 David Huff $150.00 Krista Babine $50.00 Craig Vogelsang $150.00 Meredith MacNaughton $50.00 Jessica Phillips $200.00 Nicole Gibson $50.00 Amy Walton $350.00 Eboni Wall $50.00 Mariana Pope $50.00 Tadd Tellepsen $1,000.00 Meredith Spence $50.00 Elka Carroll $50.00 Joel Grade $350.00 Sallie Alcorn $150.00 Richard Dachman $50.00 Lisa Woods $150.00 Bijal Bala $150.00 Lindsay Pearce $50.00 Allison Wise $50.00 Mandy Kao $150.00 Olivier Germain $150.00 Steven Graubart $150.00 Linda York $50.00 John Watson $350.00 Claudia Holmes $150.00 Kelli Fondren $150.00 Lauren Morgan $300.00 Ragen Doyle $50.00 Allen Lyons $500.00 Kara Montgomery $50.00 Linda York $150.00 Melissa Murphy $50.00 Brandee Houston $350.00 Julianne Kugle $200.00 Kelsey Berumen $50.00 Denise METRY $150.00 Meredith Spence $50.00 Michelle Frankfort $50.00 $50.00 Dan Martin $50.00 Douglas Wheeler $300.00 Angela Logan $50.00 Anne Campbell $50.00 Linda Anderson $350.00 Manolo Sanchez $50.00 Heidi Roeder $50.00 Stephanie Linder $50.00 Grace Kim $50.00 chau nguyen $150.00 Cindy O'Donnell $50.00 Niles Seldon $50.00 Meredith Spence $50.00 Linda Classen $150.00 Dorothy Paterson $50.00 Caroline Mitchell $50.00 Erin Brown $150.00 Kim Brown $50.00 Carter Dugan $50.00 Shannon Addison $350.00
Current Progress: $14,875 of $1
Join Us and Contribute Fresh Produce to Families Nationwide
Friends, join us on Sunday, April 11th for a virtual, family-friendly culinary experience with Marcia Smart of Smart in the Kitchen. Together we will prepare three healthy and delicious menu items, while engaging in important dialogue with Brighter Bites' Founder Lisa Helfman and Board Member Scott McClelland facilitated by Houston Life Co-Host Courtney Zavala.
This hands-on, stay-at-home event will benefit Brighter Bites' critical work of providing fresh produce and nutrition education to nearly 30,000 families nationwide.
Register below to gain access to the exclusive event.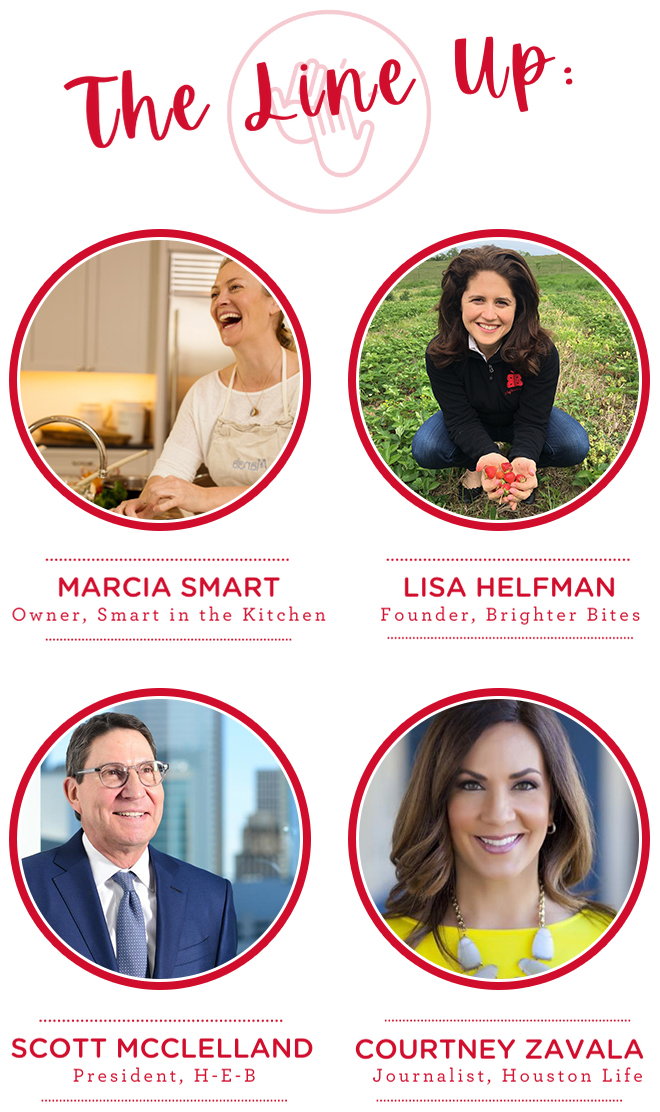 Choose From 3 Ways to Participate
$50 General Admission Ticket
Gets you exclusive access to the event, including a list of all recipes and grocery ingredients sent out one week in advance.
$150 Supporter Ticket
Participants at this level will receive access to the event, as well as a curated, culinary event box sent to their homes in advance so they can cook with us in style. Contents include a custom embroidered Brighter Bites apron, a kitchen towel, multi-purpose reusable produce bags, a cooking utensil, and more!
$350 Premier Ticket
Patrons will receive all of the above, as well as a yearlong membership to Marcia Smart's cooking school, Smart in the Kitchen. Benefits include a year's worth of hands-on, participation classes focusing on knife skills, cooking techniques, quality ingredients, seasonal cooking, meal planning, and recipe specifics.
Culinary box highlights include:
A custom embroidered Brighter Bites apron, so you can prep, chop, and roast with us in style!
A nine-pack of multi-purpose poly mesh produce bags to promote sustainability around the planet and cut down on single-use plastic, while keeping your fruits and veggies fresh and organized.
Brighter Bites-approved fruit and vegetable tea towels to brighten up your kitchen.
Other specially curated cooking utensils, recipes, and more!
More Information
For more information about tickets, sponsorship packages, and additional opportunities, please contact Huntley Kubitza, Development Coordinator, at huntley.kubitza@brighterbites.org.
---
All proceeds will benefit Brighter Bites, a national 501(c) nonprofit founded nearly 10 years ago with the mission of creating communities of health through fresh food. Brighter Bites provides underserved houses with access to free, fresh fruits and vegetables along with nutrition education for better health outcomes. This year, we will distribute over 10 million pounds of fresh, immune-boosting produce along with budget-friendly recipes, tip sheets, and other nutrition education resources to 30,000 families representing 135,000 individuals across seven cities.